---
Fame 
"Judgement Day"
Written by Michael McGreevey
Directed by Oz Scott

With 
Lou - Dick Miller
---
Scene: Lou's Lanes: at night

Leroy enters the darkened bowling Alley.

Leroy:
Hey Guys I don't have time for this.
Where are the lights in this place?

The light come on revealing
all the students & teachers
from the school.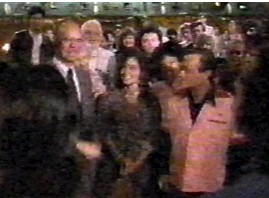 Everyone:
Surprise!

Leroy:
What is all this about?

Mr. Dyrenforth:
It may have slipped your mind but
12 months ago you decided to become a teacher!

A big cake is brought forth with
"Happy Anniversary Leroy" written in icing.

Everyone:
Happy Anniversary Leroy!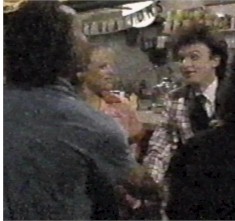 Music is playing , everyone is laughing,
dancing and having a good time.
Leroy makes his way through the crowd,
dancing happily with all his friends.
Ian is sitting on a bar stool, chatting
and strumming his guitar.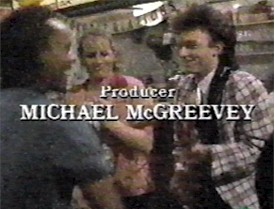 The owner, Lou introduces himself to
Mr. Shorofsky - the music teacher.

Lou:
Mr. Shorofsky so we finally meet!
Mr. Shorofsky:
Lou Mackie, it's a pleasure Sir.
Lou:
Yeah, I hear we have a lot in common.
Mr. Shorofsky:
I've been meaning to get
over here and try out your lanes.
Lou:
Oh I wasn't talking about bowling.
You're into classical music right?

Mr. Shorofsky:
You like Classical music?

Lou:
Oh yeah, I wish that I could get Chris
to do some of that here but y'know - teenagers.
If it ain't rock and roll it ain't nothing.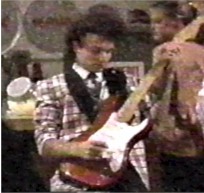 Mr. Shorofsky:
I have exactly the same problem in school.
You see that young man over there with the guitar?

He points over to where Ian is sitting.



Lou:
Yeah - The English kid.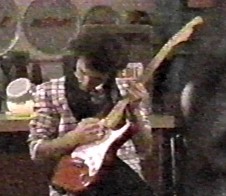 Mr. Shorofsky:
He could be a great guitarist if he'd
only apply himself. But he's more
interested in Eddie Van Halen than Sikovia.


Lou:
Gee, I'd love to have him play some
classical things here.
Does he know any Patti Paige?






---
Scene: Mr. Shorofsky's Class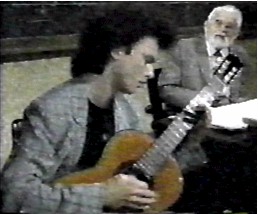 Ian finishes beautifully playing a classical
piece on his guitar.


He then, twists the end into
a rock finish. Mr. Shorofsky
clearly unimpressed
tries to get him to stop.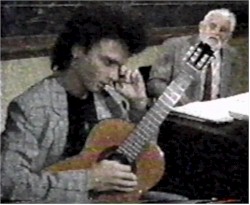 Mr. Shorofsky: <shouting>
Mr. Ware! Mr Ware!



Ian stops.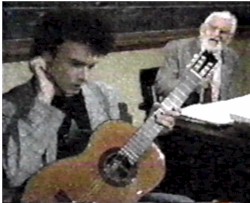 Would you like to tell me
what that display was all about?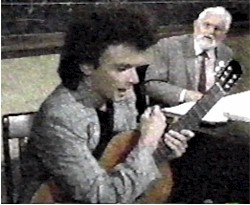 Ian:
I was just improvising to
liven things up.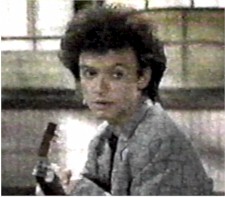 Mr. Shorofsky:
Mozart is not lively enough for you?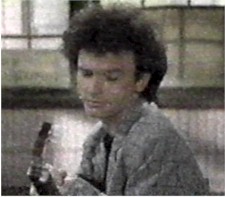 Ian:
Well.....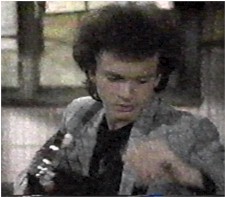 Ian leans over on Shorofsky's desk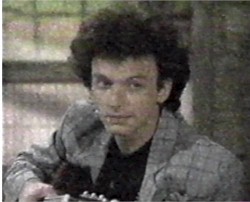 It is a little boring isn't it?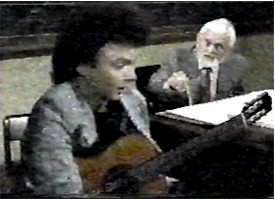 Mr. Shorofsky:
How about that noise or
whatever it is you just played?
That's not boring?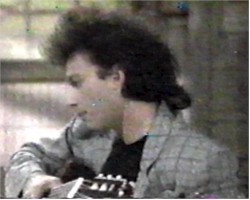 Ian:
Not to me it isn't.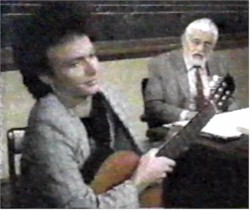 But to each his own right?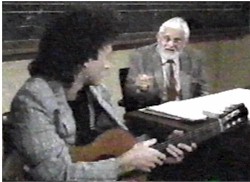 Mr. Shorofsky:
Mr Ware, now I don't want you to
misunderstand me.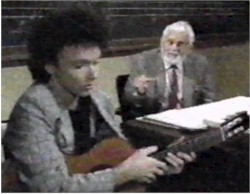 I'm all in favor of
artistic freedom.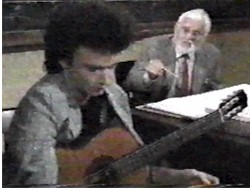 But as long as you're
in my classroom -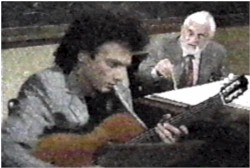 you will play the
music the way it was written.

Understood?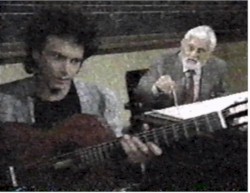 Ian:
Yes, Sir.

Chastised, Ian picks up his music,
guitar and leaves.






Next


---
page 1
page 2
page 3
back to Fame main
---