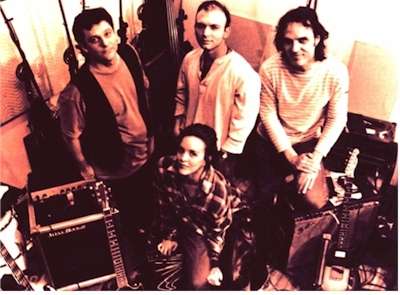 Shannon Ford - drums

Michael Cerveris - vocal & guitar

John Jinks - bass

Alice Ripley - vocals & guitar



photo by Robert Kirk



Net Magazine

15 Aprilish 1994 Issue 11

by Robin Eisgrau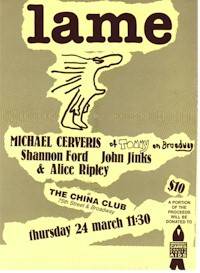 When I was a teenager, I knew kids who were into Broadway musicals and kids who were cutting edge rock. It was rare, but every so often the twain did meet. I remember a rehearsal of my high school theater club's slipshod production of Guys and Dolls being derailed when someone brought in a copy of the Decline of Western Civilization soundtrack and we sat around listening to it instead of rehearsing. So I was somewhat surprised to spot Michael Cerveris, star of the Broadway production of Tommy at some recent shows by Teenage Fanclub and Buffalo Tom. It turns out that Cerveris is in a band called lame who aren't lame at all. (hey, they're smart enough to know that self-deprication is way cool on the indie scene these days). I ventured to China Club to see them perform as part of a benefit for Equity Fights AIDS/Broadway Cares and they were fun. lame covers "Frank Mills" (as did Lemonheads on "It's a Shame About Ray") from Hair and the underground anthem "That's when I Reach For My Revolver" by Mission of Burma. At a party I went to some months ago, Cerveris dueted with Pete Townshend on The English Beat's classic 'Save it for Later".




---


"Backstage on Broadway"

Playbill

by Sandra Mardenfeld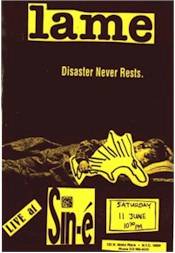 Michael Cerveris feels his full schedule keeps his Tommy performance fresh. Loathe to miss opportunities, Cerveris says yes to projects first, fitting sleep time in later. lame, the band he started in January 1994, rounds out the remainder of his free time. Rehearsing twice a week, usually after Tommy's evening performance, the four-member alternative rock band plays original music at venues like Sin-E and the China Club. "The Band gives me as much energy as it takes from me--just to have another creative outlet," Cerveris says.

Although optimistic about lame's future, Cerveris's main interest, for now, is personal: "I've made enough compromises and sacrifices as an actor, and now I have the luxury of being able to make the kind of music I want to make without worrying how it'll sell on MTV. The joy of playing music is playing with other people for other people.


---
Amazing Journey - Official Web Archive for Michael Cerveris
Please send any comments about this page and contributions
to email - webmaster@michaelcerveris.com